Edmonson County
High School

Class of 1974

The Old Edmonson County High School
Brownsville, Kentucky
Home of the Wildcats!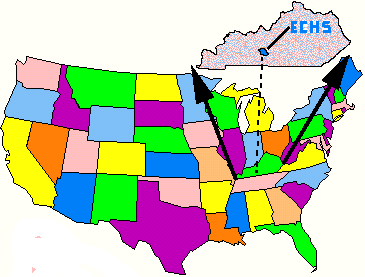 ---
Welcome Home Class of 1974!
And Welcome to All Visitors to this Edmonson Co. High School Website.
This homepage is a link to our past at Edmonson County High School, to our other Edmonson County school experiences and, for most of us, to home.
Please come in and once again walk the halls of the school. If you are a current or a past member of Edmonson County schools, or a visitor just wandering through, spend a few moments with us, and leave us a note in the Guest Book.

1974 Graduate and Current Principal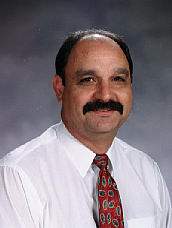 Gary Meredith, Class of 1974, is the current principal of Edmonson County High School
Gary was appointed principal during the summer of 2001, and his first year at the helm was 2001-2002.
The Class of 1974 is very proud of our classmate. We wish him well as he guides our high school and, in many cases, our children into the future.
Click here to send a message to Gary: GMeredit@Edmonson.k12.ky.us
Posted 3/6/2003
Click to Jump Down to ...
---
You're standing in The Lobby of ECHS. Where would you like to go? ...

Home Room (Ready)

The list of students in the Class of 1974. All students whom we could recall who were members of the class at some time, whether or not they graduated from ECHS, are listed.


Principal's Office(Ready)

| | |
| --- | --- |
| If you attended a school in Edmonson County and graduated (or would have) from 1971 to 1977, please sign in here. We would like to have your address and contact information so that we can keep up with you. | |


Bulletin Board(Ready)

Announcements, information, etc.


Lunch Room(Ready)

| | |
| --- | --- |
| Come to the "lunch room" and join our discussion board. Post messages, read what others have written, share memories, stories, etc. | |


Teacher's Lounge(Ready)

The Faculty and Staff Page.


Gym (Not Yet!)

| | |
| --- | --- |
| Non-academic pursuits at ECHS | |


History Class
(Not Yet!)

| | |
| --- | --- |
| Take a trip through The Mind's Eye back to the years when the Class of 1974 was in school. It's 1962 ... | |


Elementary/JH
Schools (Ready)

| | |
| --- | --- |
| Kyrock, Brownsville, St. John, Lincoln, Sunfish, and Chalybeate schools were the starting points for most ECHS students. Visit here for memories of our years at these schools. | |


Our Classmates
(Ready)

These are the Classes who were in school with us, from 1971 to 1977.


Library (Ready)

Great resources for keeping in touch with old friends!


Photos (Ready)

An album of photos of the Class of 1974.
News About Our 1974 Classmates
January 5, 2004 Old Picture: Trivia Quiz!
Someone has shared the following picture with me from our days at ECHS. It is a bit worse for the wear, but is still a good picture, nonetheless. At first I was going to post it as a "historical find," but then it occurred to me to make something of a trivia quiz with it. So, without further adieu, here are the questions:
(1) What is the event shown in the photograph below?
(2) Who are the two students shown in the photograph?
(You can right click the picture and open it up in it's own window to see a larger version.)
Send your answers to: dparker@tmmna.com
March 6, 2003 Website Active (Again!)
The website is active once again. Please send in any news or announcements that you have.
I have backdated some announcements between the last regular entry and now.
March 6, 2003 Death of Carolyn (Durbin) Simon's Daughter
Very sad news has come to us that Carolyn Durbin Simon's daughter, Katherine "Katie" Simon has died. Carolyn is a 1974 graduate of ECHS and her husband, and Katie's father, Donald Simon, is also an ECHS graduate.
Here is the information known at this time: Apparently on Monday evening, Feb. 24th, Katie, 19 years old, collapsed and was taken to the hospital. The following day, Feb. 25th, she was evaluated and it was discovered that she had a brain tumor, and she was transported to Vanderbilt University Hospital, in Nashville, Tennessee. Surgery was planned, but then involvement of the tumor was found to be extensive than originally thought. Katie fell into a coma on Thursday, Feb. 27th, and then passed away after 1:00 AM on Saturday morning, Mar. 1st.
Katie's funeral mass was on March 5th at St. Joseph Catholic Church in Bowling Green, and she was buried in the St. Joseph cemetery.
Carolyn and Donald own and operate Simon Farms on Dixie Highway (U.S. 31W) between Bowling Green and Smiths Grove.
March 6, 2003 Randy Howard, Marine Sergeant, Serving in the Middle East
Our 1974 classmate, Randy Howard, a gunnery sergeant in the Marine Reserves, has been activated for duty in the potential war with Iraq. Randy and his unit, the 8th Tank Battalion, put to sea aboard ship in January, and arrived in the Middle East in February. ECHS classes, and any other interested parties, can support Randy by your prayers, and perhaps by sending him a card or message. His address is:



"Gunstan Hall" LSD44
GSGT R. L. Howard, USMC
8th Tank Bn, A Co.
DET B
76007 FPO AE 09511-6007
Any further news of Randy's service will be posted here.
December 7, 2002 Daughter of 1974 Classmates Ricky and Carla (Meredith) Keith Weds
On December 7, 2002, Brittany Keith wed John Brooks at a ceremony in a ceremony at Cedar Springs Baptist Church. We think it won't be too many years now before Ricky and Carla join many of the rest of us in the 1974 Grandparent's Club!
August 3, 2002 Regina (Deweese) Prewitt Marries Lennie Slaughter
1974 Classmate Regina (Deweese) Prewitt wed Lennie Slaughter, also an ECHS graduate, on Saturday, August 3, 2003. The Class of 1974 wishes Regina and Lenny the very best in their future years together!
July 30, 2002 Darb Deweese, Father of 1974 Classmate Regina Deweese Prewitt, Passes Away
Most 1974 classmates knew Darb Deweese, the father of our classmate, Regina. He was a pillar of the Edmonson County community, and spent most of his adult life serving God as a Baptist minister. Darb was driving home on Highway 259 between Rhoda and Brownsville when his left the road and wrecked. Bro. Darb was seriously injured, and passed away a few days later, on the 30th. Our condolences go out to Regina and her whole family on this additional death in her family.
December 28th, 2001 Death of Aza (Moody) Cateau's Daughter
On December 20th, 2001, Stephanie Cateau, the daughter of our 1974 classmate, Aza Moody Cateau and her husband, the Rev. John Cateau, was killed in a automobile accident in Michigan, where Aza's family lives. Stephanie, 16 years old, was apparently in an unfamiliar part of town and proceeded through an intersection which she apparently thought was a 4-way stop, but was not. She was struck by a vehicle coming through the intersection. The funeral was on Dec. 28th, in Michigan.
July 21, 2001 News of Ezra Vincent
A couple of our classmates report that, to the best of their knowledge, Ezra lives in Bee Springs. It is thought that he is married and has no children. You may recall that Ezra had a brother named John Earl and a sister named Mazie (spelling is probably wrong on this name). Ezra's mother, Media, died very recently.
July 13, 2001 Revona Decker is staying in "Stride" in Louisville
Revona has found us. A message was received from her a few days ago. As usual, she can tell us best in her own words what she has been up to these last 27 years.
"I did make it to the 1979 and the 1994 reunions... but I am looking
forward to getting together again."

"I am still in Louisville, have been her for 17 years, but I would move back
to Edmonson County in a heart beat, but there is just no where to work."

"After high school, I went to nursing school, became a LPN, met my wonderful
husband, got married, had a 9 year old stepson, whom I am very close to.
We had a daughter, she is now 23 and has a 8 month old baby girl named Macy
Alexandria Pratt... My daughter lives in Louisville also, she is a daddy's girl.
Our son lives in South Carolina at this time. He has a very good job, but moves around
a lot. He is into CAD designing, he has been in Seattle, WA, Columbus, OH, Pittsburgh
and Cleveland Ohio. I think he is going to stay in South Carolina..."

"After David and I got married, we left Bowling Green, came to Louisville, on
to Milford, Ohio, then to Bee Spring, KY, went from there to Hollywood
Florida, back to Bee Spring, then to Louisville again, to Versailles, Ky.
... and settled down in Louisville..."

"I am still with Stride Rite Corporation, will be 8 years in October. I
started out as a Distribution Tech, was promoted to Team Leader of Returns,
later Cancellations was added, then Quality Control was added, and just this
past January, I took on the Inventory Control as well, needless to say...I am
very busy. It was a challenge to take all these areas, but I'm always ready
for a new challenge. I work a lot of hours, but I love my job. I do some
traveling, to Chicago, and Richmond, our corporate office is in Lexington
Ma. ..."

"I often think about the days at ECHS. I was thinking yesterday of the
classmates that have passed away. Michael (Possum) Vincent, Joyanna Woosley,
Terry Prewitt... Marshall ... Donald Clark...
and then we don't seem so old, seems like "too young to die."

"I have a brother Ronnie that lives in Versailles, I live in Louisville, and
my sister and three other brothers all live in Edmonson Co."
What a great catch-up! You can write to Revona at Revona2@aol.com
July 7, 2001 Cindy Skaggs, Found "Blooming" in Bowling Green
Cindy Skaggs wrote a few days ago and sent us word of her time since ECHS. She says it best in her own words:
"We [first husband Ron Wood, of our 1974 class] had 2 children, Heather Joy Wood House,
21 years of age, and Jonathan Neal Wood 18 years old. Heather is married to
Nathan House of Bowling Green. They have been married for 2 years. Jonathan
just graduated high school at [Warren East High School].

"I remarried ... to a wonderful man. His name is Paul
Lawrence, and he is from Bowling Green. I was working at Medical Center, the
Manager of Globe Finance and met him there and we dated for 3 years and then
married. He is a great husband and stepfather to my 2 children. We have no
other children. We live in Richardsville, which is approximately 5 miles
outside the city limits.

"I opened my business 9 years ago, (Cindy's Flowers & Gifts) here in Bowling
Green. I have a store on the web, www.cindysflowersr4u.com. Visit it if you
need flowers. We can send them worldwide."
Here is Cindy's website: Cindy's Flowers & Gifts.
July 6, 2001 Major Update! Pam Basham, Kathy Carroll, Robin Houchins, Debbie Johnson, Rebecca Lowe, Lanny Madison, Timmy Russell, Karen Van Meter, Ron Woods

A correspondent has sent in word about several more of our classmates. Following are the comments. I had no information or very little information on these members of our class, so this is a tremendous contribution.
Pam Basham
"Married Joel Woosley, had one son named Jamie (I think), Joel trains Walking Horses, Pam is in the medical field (not sure if she is a surgical tech or what), they live in Plano."
Kathy Carroll
"First married Jackie Brooks, is now married to someone named Terry (I think Davis-but not sure)."
Robin Houchins
"Robin married Clifton Tomes after high school. Clifton is a preacher. [I think] they live in Bowling Green somewhere."
Additional note: Robin has also registered at www.classmates.com.
Debbie Johnson
"Debbie ... married Tommy Jones. They have children but I don't know how many, sex or age. They live near Morgantown. Tommy is the President or Vice President of Brownsville Deposit Bank and another bank near where they live I think."
Rebecca Lowe
"Becky is ... married and lives around Cave City and still attends Cedar Springs church"
Lanny Madison
"Last I heard was married to someone named Annette. No children, had a back injury of some sort and was not able to work much at the time."
Timmy Russell
"Last I knew of him, he was married and works at Sun Valley Feed Mill here in Brownsville."
Karen Van Meter
"Karen married Hoyt Minton. They own and operate Wildcat Video on the square in Brownsville, plus he works for Bi-Lo Automotive. She has a couple of stepchildren and I know at least one daughter of her own."
Ron Woods
"Ron has not remarried since his divorce from Cindy Skaggs. He traveled and played in a band with his cousin Greg Stevenson some. After the loss of his sister Debbie to cancer, he came home and kind of settled down. I believe he lives in and attends church at Bee Spring."
June 24, 2001 Michelle Brooks...Still Loving Edmonson County!

E-mail has been received from Michelle Brooks. Michelle is married to Leo Stevenson, of the ECHS Class of 1971 and still lives in Edmonson County. In an e-mail she says:
"You know I have never wanted to be anywhere but Edmonson co. I guess it's good I married someone who feels the same way. ... I have been so lucky. Most of my life has been so wonderful. I have a boy that is 17 and will be a senior in High School this year. (John) I have a daughter (21) she works with me hear at Houchens. (Jenny)"
Michelle's father, Amos, still lives in Edmonson County also, though her mother has passed away. Unfortunately, two of Michelle's four brothers have also passed (Jimmy and Steve). Michelle works at the Houchen's Markets office in Bowling Green.
June 18, 2001 News from Several Classmates (Sunday Lindsey, Ricky Hennion, Connie Elmore, Donald Clark)

I've been away from the board for awhile and have fallen a bit behind with the news. But we have heard from several old classmates since our last update.
Sunday Lindsey sent e-mail on May 15. Sunday has lived in Pennsylvania, but is now in Dry Ridge, Kentucky, just south of Covington. She has 2 children: Hannah (22), and Nicholas (17). She also has a grandbaby, Lilly Rose, who is about 3 months old! Sunday was quite ill for awhile, but has a wonderful, inspiring story of recovery. She is now attending college, majoring in accounting.
Ricky Hennion lives in Park City and is married to Carmen. He has four children: Terry (25), Alex (14), and twins Ryan and Weston (12).
Connie Elmore married a gentleman named Timothy (last name unknown), and has a son who is about 20 now and attends Western Kentucky University. His name is Brandon.
Finally, there is the sad news of Donald Clark. Donald died Saturday night, June 16, 2001 of a self-inflicted gunshot wound, after taking the life of his wife, Judy. He was a member of the Cave City Fire Department, and he and Judy have two children (Christy, 17; and James, 11).
May 14, 2001 Joel Madison is Ill

A benefit singing for Joel Madison was held Friday night, May 11 in Brownsville. Joel has had diabetes for many years. It has grown much worse in recent years and Joel is now house-bound. He had surgery in January, 2001 to remove part of a foot, and may soon have to have his legs removed. His brother, Anthony, reports that Joel is in very bad health. Anthony says that anyone who wishes to drop Joel a card or give him a call will do a great service.
May 12, 2001 Kathy Woodcock

She's alive and well in Edmonson County! She writes:
"I am still a resident of Edmonson County, I live in Bee Spring. I have two children, Whitney, who is married and lives in Louisville, and Adam, who is a Senior at ECHS. I am single, and I work in the Edmonson County Clerk's Office."
Dusty Minton

A correspondent writes that Dusty was married to Sheila Wolfe, an ECHS classmate and sister to Wally Wolfe, of our class. They had at least two children, one of whom died in infancy, and then divorced.
Mike Wolfe

A correspondent writes that Mike married Rita Tomes. Mike was the brother of Sheila Wolfe and Wally Wolfe, both of ECHS.
May 10, 2001 Terry Prewitt Death Information
More is known about the circumstances of Terry's death. Information from a correspondent states:
"Terry died yesterday evening [Wednesday, May 9]. On Sunday [the family was very happy about] the good report they had received from the Drs. [The doctors] were very pleased with his progress except for an infection they were trying to control. Apparently the infection got worse. ... they replaced all his tubes (he had a tracheotomy, and a catheter tube in his chest and [perhaps other tudes]) in hopes that new ones would alleviate any infection around them. That didn't help so they increased his antibiotic ... places started coming out on his skin so they had to stop. (They thought the infection might have come from some of the blood he had to take). [Later] the Drs. told Regina there was nothing else they could do for him. [After a family consultation it was] decided that he wouldn't want to lie there like that, so they made the decision [to remove life support]. ... he died fairly peacefully.
Regina has been with Terry... since she was 14 years old."
I called Patton Funeral Home today and they stated that arrangements would be known after lunch on Friday, May 11th (tomorrow).
May 9, 2001 Terry Prewitt Passes Away
After having our hopes raised that Terry would be able to pull through his terrible accident, news came this evening that he lost his battle and had died. No further details are known now, but will be provided as they are learned. Please pray for Regina, and for Terry's family.
May 9, 2001 Word of Terry Rich
A correspondent, Billie Jo Rich, sent in the following word about her brother-in-law, Terry Rich. Billie Jo is married to Terry's older brother, Amel Rich. Terry was a star running back on our football team during our high school days, and is also the brother of Phil Rich, of the Class of 1976, and from whom we also received an e-mail today. (See News from our 1976 Classmates.)
"Terry ... live[s] in Bee Spring, is now single, has one son age 16 named Matthew, and ... work[s] for Alliance Corporation."
May 3, 2001 Terry Prewitt: Good News!
Terry's condition has become much more encouraging. Following is a report just sent to me:
"I just called to get a report on Terry and the news is good. They have put his pelvis back together. Apparently, they had a vise and tightened it more everyday and on Monday or Tuesday it came all the way together and is doing pretty well. He had a catheter tube in his chest which got a little bit of infection but that has been changed and is doing well now. Had a touch of pneumonia but that is doing better now also. He is doing better in general. They are still keeping him knocked out and he is still listed in serious condition but all the bleeding has been taken care of and his pelvic bones are back together. Sounds encouraging."
April 27, 2001 Sherie Webb Found
Wonder what became of our classmate Sherie? She's alive and well, living in Tennessee, where she is a Realtor.
April 27, 2001 Terry Prewitt Update
More news about Terry. As you can see, he has gotten a little better but is far from being out of danger.
"I heard a report on Terry from yesterday [4/26]. They did surgery to kind of put him back together... where they had opened him to relieve pressure. They found a liter and a half of blood in his stomach. They got rid of that and said they were fortunate to have found it. I think if everything goes o.k., they are planning to do surgery to try to put his pelvis back together on Monday. They say that will be a very critical time. Drs. are fairly pleased with progress to this point. They say they have not been able to move him even to change his bed."
April 27, 2001 Ricky Keith Hospitalized
Another one of our classmates, Ricky Keith, has been under the weather lately, and spent a few days in the hospital. According to his wife, Carla, also of our 1974 Class, he was hospitalized several days last week with a very intense flare-up of what they believe is inflammatory arthritis. Ricky was in a great deal of pain, it was difficult to move, and, worst of all, his liver was very seriously affected. The hospital stay was required to get his liver function returned to a safer range, and he is still taking special medicine to improve his condition. Carla reported that he has returned to work, but is taking it slowly. Please say prayers for Ricky, too, to assist him and his family. You can send him a note here: ckeith@fruit.com. (It's to Carla's e-mail.)
April 25, 2001 Terry Prewitt Update
The following is an update received from a correspondent today about Terry's condition. It looks like he's hanging in there, but is certainly still in danger of losing his life. Keep up your prayers!
"[A relative of Terry's] had not heard from Terry today. He said yesterday [4/24] he was still critical. He said his kidneys had stopped functioning for a bit but now had started working again. He said ... that they had to cut him open to relieve pressure and have left him open... He had received 52 pints of blood at noon day before yesterday. In one or two days if he is stable enough they will try to do surgery .... He says there are no head injuries but are keeping him heavily drugged. Supposedly his daughter talked to him yesterday and she squeezed his hand."
April 24, 2001 Terry Prewitt, 1974 Classmate, Seriously Injured in Motorcycle Accident
Word has just been received today that Terry Prewitt of the Class of 1974 has been involved in a serious motorcycle accident, and that his life is in jeopardy. Here is what's known, by a correspondent who sent in the news:

"Terry was air lifted from the medical center in Bowling Green to Vanderbilt hospital. The story goes that he had only had this motorcycle maybe a month or so. [The bike is supposedly] big and powerful... . The story is that the throttle on the bike stuck and Terry ran into the back of his sister-in-law's car (which was parked in her drive), he was thrown through the air about 25 feet and slammed into their out building. It has broken his pelvic bones and they have separated so badly that it cut tendons and arteries ... and they can't get the bleeding stopped long enough to do surgery. ... We heard last night he had been given 55 pints of blood. We were also told that they unhooked him from [equipment] and he was expected to live about 4 hours but that he improved ever so slightly. They just couldn't get his blood to clot much."

It's time for your prayers for Terry, his wife, Regina (also of the Class of 1974), their children and grandchildren. They are needed!
April 19, 2001 Michael Vincent

The following was received from Michael today!
" I checked out our Webb site and was very pleased with it. I was reading about everyone in home room and almost teared up. It was good to get an up date from my class mates. ... I still live in the small community that I grew up in. I earn my living in the transportation field. I have been happily married for twenty-five years to Cindy, who is an ECHS class of 76 class member. We have three girls. Crissy Leann is twenty-two years old and works as a Registered Nurse at The Medical Center in Bowling Green, KY. Jennifer Lynn is twenty years old and also works at The Medical Center while furthering her career in the medical field. Shelley Marie is our youngest at eighteen and is finishing high school this year. She plans to further her education and will be going on to college also."
"I enjoy a simple live attending my church and spending lots of time with my family. Our hobbies are camping, fishing and hiking."
April 14, 2001
Very Important Announcement Coming Soon!
A very significant, and very good, development has occurred concerning the high school and one of our old classmates. Stay tuned for a major announcement in the very near future!
News About Our 1971 to 1977 Classmates
July 21, 2001 Sharon Kay Webb, Class of 1972

E-mail came from Sharon this week. She is doing very well, and married one of our teachers at ECHS. She and Jimmy Luttrell, the biology teacher, will celebrate 24 years of marriage on July 30th! Our congratulations go to them. Sharon and Jimmy have two children. Dustin, 20, is attending the University of Kentucky. Tara is a 15 and will be a sophomore at our old alma mater, ECHS. Jimmy has been an adventurer to Africa, and Sharon reports that they have a project to turn their garage into an "Africa Room" this fall to display his hunting trophies. Sharon hopes to return to Africa with him next summer (2002). Sharon and Jimmy attend church at Steep Hollow.
July 10, 2001 Donald Wade, Class of 1976--A Hilltopper Forever

This received from Donald just today:
"I went to Sullivan Junior College of Business, just one week after I graduated in '76. I studied Business Computer Programming for a year and then returned to Bowling Green. [After working at other jobs] I got a job as a Jr. Computer Operator at [Western Kentucky University], (August 6, 1979). I am still at Western, (22 years now), I have had several different positions in operations and am now what we call a Tech Op. I am support for the PC's, and current software system (BANNER) that the University uses. I also do PC maintenance and repair on the side at my home in Bowling Green. I am still single (haven't found anyone that would have me). Living in a small house in Bowling Green. I am active in my church (1st Assembly of God) and am also the State Director for a ministry in the Assembly's of God called Junior Bible Quiz. I was children's minister in my church for about 10 years, I still help out some every week. I am looking forward to seeing my fellow classmates on September 29th, at our 25 year reunion."
July 8, 2001 Janice Hufstetler of the Class of 1975

Remember Janice? The Georgia girl with that very blonde hair. After all of these years she is doing very well, indeed. E-mail received from her tells us that:
"I still live here in Edmonson co. I moved here in 1972 with my parents from Georgia. If you remember i married in my 10th grade year to Dallas Davis. We are still married. It was 27 years last Oct. (where does time go?).
I have three children Jeffrey 25, Heather 23, and Frank 22. Jeff is married and has a beautiful baby boy named Louis. He and Cynthia, his wife, is expecting again this Jan, 2002. I love being a grandma. My youngest, Frank, is 22. He just got engaged and will wed next year. He is a full time minister. Heather is married to a great man named Will. They live in GA. They have no children yet. All my children graduated from ECHS and grew to be productive, happy adults. We ... have horses. My husband still competes in calf roping. I got my accounting degree and business [degree] ... several years ago. I own my own business. It is very satisfying.
I signed the ECHS guestbook with more details."
June 18, 2001 Death of Larry Porter, Class of 1975

News has come of the death of Larry Porter. Larry died on May 29, 2001 at home of a self-inflicted gunshot wound. Larry was living in Edmonson County, on HWY 101 near the Warren County line. He had a daughter, Shannon, and a son, Jeremy. His father, Herbert Porter, also survives.
May 12, 2001 Several Former Classmates
Maxine Ashley-Class of 1975
A correspondent writes that Maxine married Gary White, who later passed away (see below).
Fred Hays-Class of 1975
A correspondent writes:
"...Fred Hayes lives near Dayton, is a chemist and married to a chemist. They have two little girls. "
Sandy Carroll-Class of 1975
A correspondent writes:
"Sandy Carroll married David Wilson..."
Sheila Wolfe

A correspondent writes that Sheila married Dusty Minton, of the Class of 1974. They had at least two children, one of whom died in infancy, and then divorced. Sheila was the sister of Wally Wolfe and of Mike Wolfe (Class of 1974).
Wally Wolfe

A correspondent writes that Wally married a Patricia Sanders. They had one child before divorcing. Wally was the sister of Sheila Wolfe, also of ECHS, and of Mike Wolfe (Class of 1974).
May 12, 2001 Classmates Who Have Passed Away

Not all of the information that we learn about our former classmates will be good. Some of it will be sad, such as the following items about those who have passed on.
Rosalie Decker
According to a correspondent, she was killed in a vehicle accident in Grayson Co. many years ago, perhaps in the 20 year-ago range. Rosalie was the winner of the Miss Edmonson County pageant in the 1970's. If someone knows which graduating class Rosalie was in please write to me.
Gary White-Class of 1975
A correspondent writes that Gary had some type of spinal tumor which caused his death. Gary married Maxine Ashley, also of the Class of 1975.
Stanley Logsdon
Stanley was killed in an auto accident with two others: Roy Mike Vincent, of the Class of 1974 (already graduated), and Brent Duvall. A correspondent writes:
"Stanley Logsdon died in the crash that took Mike Vincent and Brent Duvall. ... Brent was driving and squealed his tires when he left [the] Hilltop and officers took up pursuit. They said he went across the bridge at 120 miles per hour, hit a sign, a parked car and went airborne through a building. There were those who said he wouldn't have driven that fast if the officers weren't after him. I was told that Brent had been drinking and had made a bet with someone that he could get across the bridge and into Brownsville in X number of seconds."
The "building" that he automobile hit was the former Parker's Barbershop, next to Leonard Well's (later Pearson's) IGA supermarket. The car hit the front corner and went entirely through the building. All that was left was a pile of bricks and auto debris.
If anyone knows which graduating classes Stanley and Brent were in, please e-mail me.
Debbie Wood
Debbie married Lepaul Minton, of the Class of 1974. She attended the 74 class's Reunion with him in 1994. She was, however, suffering from leukemia, which claimed her life a year or two following that. She was the sister of Ron Wood, of the Class of 1974.
Also, if anyone knows more details of the lives (marriages, children, jobs, accomplishments, etc.) or deaths' of these classmates, please write to me at dennisdparker@hotmail.com.
May 9, 2001 Kathy Woodcock -- Phil Rich (Class of 1976) "CORRECTION!!"

The following information was apparently posted as being about Phil Rich. However, it is about our former classmate, Kathy Woodcock! Kathy was writing from Phil's computer and e-mail account, and the message was misunderstood! I greatly apologize. Even though Kathy is a 1974 graduate, I'm also putting the information here so that those who may have thought this was about Phil will see the correction. So, about Kathy ...
She's alive and well in Edmonson County! She writes:
"I am still a resident of Edmonson County, I live in Bee Spring. I have two children, Whitney, who is married and lives in Louisville, and Adam, who is a Senior at ECHS. I am single, and I work in the Edmonson County Clerk's Office."
May 8, 2001 Pat Durbin (Class of 1975)

Pat was one of the well known Durbin kids, almost all of whom had bright red hair. A correspondent tells us that after school Pat spent time in the U.S. Navy, and afterward became a Registered Nurse. He has married a girl from Bowling Green, and now in a house just a short distance from the beach on the Gulf of Mexico in Mississippi.
April 20, 2001 Remember Marian James?

An e-mail arrived from Marian today. She says...
"I live in Louisville (Valley Station), am married and have three kids. My husband is Rickey Singleton. He works at Sud-Chemie. I work at home doing medical transcription. My oldest daughter (Amelia) will be 16 next week and is a sophomore at Butler Traditional High School. My youngest daughter (Hannah) is 14 and will join Amelia at Butler next year. My youngest is a boy - Neal. He will be 12 in July and will be in the 7th grade at Johnson Traditional Middle School this coming year. ... It was nice to get out my annual and refresh old memories, some good and some sad."
News About Our 1971 to 1977 Teachers and Administrators
July 21, 2001 Mr. Jimmy Luttrell, Biology Teacher...Still Teaching (But not at ECHS), and An African Adventurer

Mr. Luttrell has resurfaced, and in a big way! He is married to the former Sharon Kay Webb, a classmate of ours from the Class of 1972. He has two children: Dustin is 20 and a student at the University of Kentucky; Tara will be a 15 year old sophomore at ECHS. He and Sharon still live in Edmonson County.
Jimmy retired from his career as a public school teacher in 1994. True to his roots, however, he did not leave the teaching field. He now instructs part-time at the Job Corps Center. He also has a quite surprising hobby! Jimmy went on a hunt in Africa last September, and came home with three kills. He bagged an eland, an impala, and a wildebeast. He and Sharon will be turning his garage into an "Africa Room" where these animals will be displayed.
Jimmy and Sharon attend church at Steep Hollow.
May 4, 2001 Mr. A. B. Mitchell, History Teacher at ECHS, Passes Away

Mr. Mitchell, an icon at ECHS for so many years, died Feb. 6, 2001. His funeral was at Patton Funeral Home. He was the husband of ECHS teacher Eleanor Mitchell, and father of ECHS students Brooks Mitchell (1973) and Jane Mitchell (1975). Our sympathies are extended to Mrs. Mitchell, Brooks, and Jane.
Here is a link to Mr. Mitchell's obituary in the Daily News:
http://www.bgdailynews.com/cgi-bin/view.cgi?200102/08+mitchell20010208_obituaries.html+20010208
March 6, 2003 I'm Back....Again!
After another sojourn away, the website is active once again.
May 10, 2001 1963 1st Grade Students at Brownsville School (2 Classes/Pictures)
Click the links to see the some of the members of the ECHS 1974 class when they were in 1st Grade!
Photo of Mrs. Alexander's 1st Grade Class at Brownsville School in 1964
Photo of Mrs. Cook's 1st Grade Class at Brownsville School in 1964
May 8, 2001 Picture of Brownsville Elementary School in 1963
Click on the link to see a picture of the old Brownsville Elementary School when the Class of 1974 was in the 1st Grade. This will surely bring back memories!
Photo of Brownsville Elementary School in 1963
May 2, 2001 1968 6th Grade & 1970 8th Grade Pics, & Joyanna Woosley Dedication
Click below to see some of the 1974 ECHS graduating class when they were in the 56th and 8th Grades!
Photo of the 6th Grade Brownsville Class in 1968 (ECHS Class of 1974)
Photo of the 8th Grade Brownsville Class in 1970 (ECHS Class of 1974)
Also, a picture of Joyanna Wooseley's dedication page in the 1976 Yearbook has been posted. See it at...
April 28, 2001 1967 5th Grade Students at Brownsville School
Click below to see some of the 1974 ECHS graduating class when they were in 5th Grade!
Photo of the 3rd Grade Brownsville Class in 1965 (ECHS Class of 1974)
April 27, 2001 1965 3rd Grade Students at Brownsville School
Click below to see some of the 1974 ECHS graduating class when they were in 3rd Grade!
Photo of the 3rd Grade Brownsville Class in 1965 (ECHS Class of 1974)
April 25, 2001 News From Classmates Sections (2) Added
Two new sections have been added on this page (see above). One concerns the Class of 1974. The other the ECHS Classes of 1971, 72, 73, 75, 76, and 77. When news from or about our classmates comes in it will be posted on this opening page for a period of time. This should be a great new feature that helps us to stay up on the latest information about our old friends.
April 20, 2001 1966 4th Grade Students at Brownsville School
There are two new items for Brownsville School. Click to see them:

Partial Listing of Students (Just some from the ECHS Class of 1974 currently)

Photo of the 4th Grade Brownsville Class in 1966 (ECHS Class of 1974)
April 18, 2001 1970 8th Grade Students at Kyrock School
There are two new items for Kyrock School. Click to see them:

Partial Listing of Students (Just some from the ECHS Class of 1974 currently)

Photo of the 8th Grade Kyrock Class in 1970 (ECHS Class of 1974)
April 16, 2001 The Home Rome
Additional content has been added to the Class of 1974 page, most of which was sent in by Carla Meredith (now Keith), from the class. See it at Home Room.
April 14, 2001
The Home Room
Significant content has been added to the Class of 1974 page. See it at: Home Room.
April 6, 2001 Sunfish School Page Added
The page for Sunfish school has been put on the site, with an initial list of classes and teachers. You can see it at:
Sunfish Elementary/Junior High School

April 1, 2001 Elementary/Junior High School Area Open
We spent more of our time in the elementary and junior high schools than we did the high school, of course. They are as much an indelible part of our experience in Edmonson County schools as is the high school. Though this area is largely devoid of information now the best way to begin to put it together is to make it available on the site. Please see what's there and help me with information, pictures, and other resources. Click here: Elementary/JH Schools.
Also the pages for the web pages for the Classes of 1971 to 1977 have been added and given a link directly off the main page (see above). Here will be listed the names of the members, and what has become of them in years after ECHS. Members of the Classes of 1971-77...I need your help with this! Please assist me in assembling the names of class members and their stories! Click Here to go to the Classmates page.
March 31, 2001 I Need Your E-Mail Address
I've begun corresponding with a few people from the class (and others). However, I need to get in contact with more of you. I recently sent out a "form" letter to those of you who are registered on Classmates. If you have not yet responded to this, please do so I have a contact address for you (though I can send to you from classmates, I cannot see your e-mail address). If you are not part of Classmates, please send me a note so that I can get your e-mail Click here to e-mail me.
March 23, 2001 I'm B-A-A-A-C-K !!
As many of you know this site was "abandoned" for a few years, with no work to continue to build the history. Many people still found useful and enjoyable information here, as attested to by e-mails I've received over the years. Now I hope to bring this site to a new level of usefulness. Information that will be included here will involve three perspectives. The orientation, of course, centers around the Class of 1974. However, there were six other Classes who were in school with us, for varying lengths of time. These are the Classes of 1971, 1972, 1973, 1975, 1976, and 1977. The Class of 1974 has friends and memorable experiences with people from all of these groups, and they all have friends and memories with people associated with 1974. Members of any of these seven classes will find much relevant information here. Beyond those specific classes, students from other era's at ECHS should also find this to be a great site, and will share many common experiences and activities with those for whom it is specifically posted. I encourage the participation of all who visit here.
Under Construction
This site is "Under Construction," meaning that there are many parts which are not yet ready for use. They are marked. However, because some information will be useful and enjoyable, and because we can immediately begin to use The Lunchroom to exchange comments and memories, what is available now is being put up. In the meantime, those areas which have some usable content are marked with "Ready." If you have information, memories, ideas, etc. to help with the unfinished areas, please jump in and contribute!
---
Please Sign The Edmonson Co. High School Class of 1974
Guest
Book
The Bus Will Take You There!
Click Here to View The Edmonson Co. High School Class of 1974 Guestbook
---
Link to the the Official Website of ...


---
Web page Contact Information:
E-Mail:
dennisdparker@hotmail.com
Postal: Dennis Dio Parker; 131 Wiglesworth Lane; Cynthiana, KY 41031
Telephone: 859.235.0100